Product Snapshot: Woolworths Soft wraps with 65% less carb
Low carb products are all the rage at the moment. Those on keto and low carb diets are always on the lookout for low carb versions of their favourite foods such as breads and wraps. We've already reviewed low carb breads and low carb potatoes and now we're now giving you a quick look at these soft wraps from Woolworths which have 65 per cent less carbs.
These wraps are made with grains and seeds and come in a pack of five with supposedly the same great taste as the regular full-carb ones.
Take a look at what we thought
Woolworths 65% lower carb soft wraps are great and easy to store and use. One wrap weighs 45 grams. There are 5 wraps in the 225 g packet.
Pros
Good for protein – 9 grams in one wrap
You eat fewer carbs – only 5.6 g per wrap compared to around 18 g for a regular wrap
Very high in fibre – almost 10 grams per wrap
5 Health Star Rating which is great
In a resealable bag so it's easy to take out one
Do not split or tear when made up – unlike other similar wraps
Great serving suggestions with photos for a Rainbow Wrap and a Falafel Wrap on the package
No added sugar - less than 1 g sugars per 100 grams
Cons
Long ingredient list to make it 65% lower in carbs of which water, wheat starch and wheat protein are the first and biggest three. The wraps contain 27 ingredients but 12 of these are part of the cereal mix which includes wholemeal flour, rye flour, linseed and oat fibre.
They are made in Australia but use only 58 per cent of Australian ingredients

Ingredients
Water, modified wheat starch, wheat protein isolate (wheat gluten, mineral salt 339, acidity regulator 270), cereal mix 9% (wholemeal wheat flour, rye meal, wheat flour, rice flour, maize semolina, barley flour, linseed, soy flour, oat fibre, flax seed, vitamins (thiamin, folic acid)), wheat gluten, vegetable oil, cultured wheat flour (wheat flour, vinegar), iodised salt, raising agent 501, mineral salt (450, 341), acidity regulator 297, vegetable gum 412.
I have three questions re these ingredients:
Why do these need three kinds of mineral salts i.e. 339, 450, 341?
339 = sodium phosphates
450 = sodium pyrophosphate
341 = calcium phosphates
Why do these need two lots of gluten?
Why do these need two different kinds of acidity regulator?
270 = lactic acid
297 = fumaric acid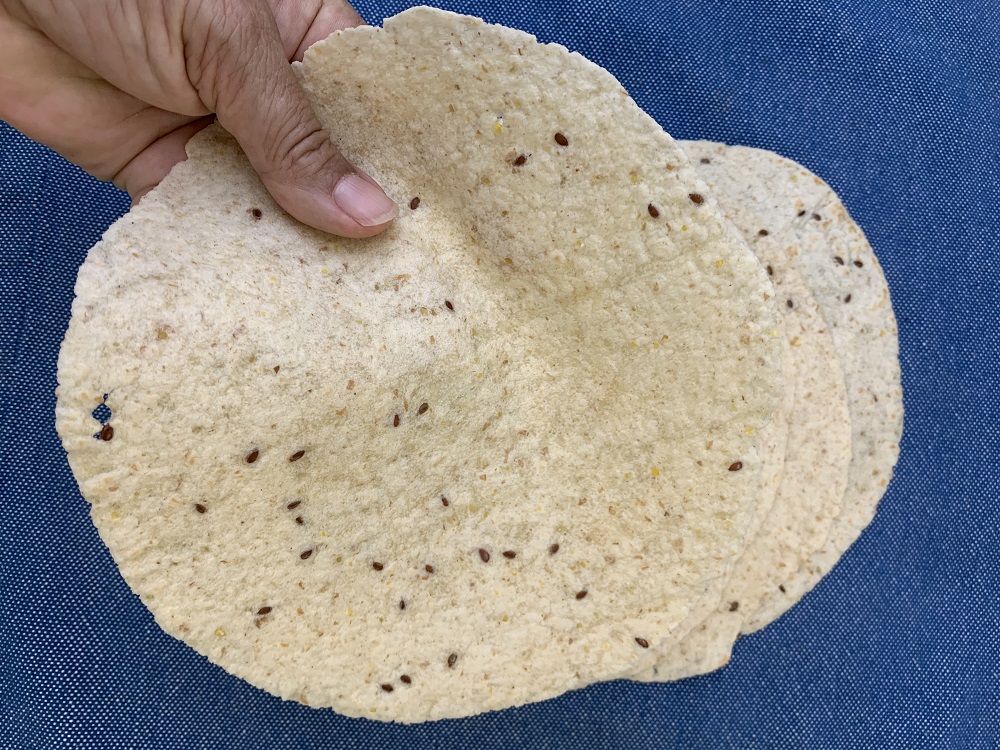 Any allergens?
These wraps contain gluten and soy flour so not suitable for anyone on a gluten-free diet or with allergies to wheat or soy. More details here.
Price
These wraps cost $5.00 for a pack of five. This is on a par with Mission lower carb wraps but they have almost half of the carbohydrate of the Mission brand.
My verdict?
A good product if you like and use wraps regularly and wish to manage your carb intake. They are also an excellent source of fibre, source of protein and are free of added sugar. Sure sounds like a win-win to me!