Product Snapshot: Nudus fruit and veg chips
If you're on social media, then you're almost guaranteed to have heard of Nudus. They seem to be carpet bombing the Instagram and Facebook feeds. This made me curious (yes, the ads worked!) to see what they were like as they have 5 Health Stars and claim to be made from 100% fruit or veg.
Where can you buy them?
They're not widely available and one stockist they list had never heard of them when we enquired. We had to buy a box of them from their website. This cost $33 with 'free shipping' making them $2.75 per pack. Given the one stockist we did track down had them for $1.99 that looks very much like $0.76 postage per pack.
What varieties are available
They list five varieties on the website but the Beetroot chips have sold out. The ones we were able to purchase were Apple, Pineapple and Kiwifruit, Tomato and Zucchini, and Orange.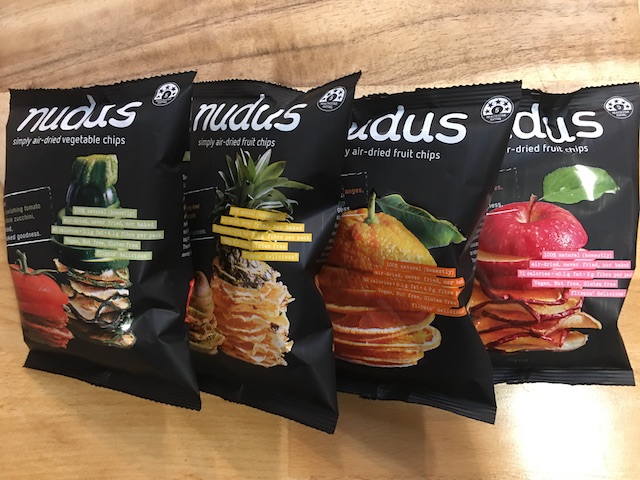 Pineapple and kiwifruit
This had a very small amount of chips in the bag. However, the smell of the pineapple was mouth-watering. Inside the pack, the pieces were small, and almost unrecognisable – not at all like the pic on the pack.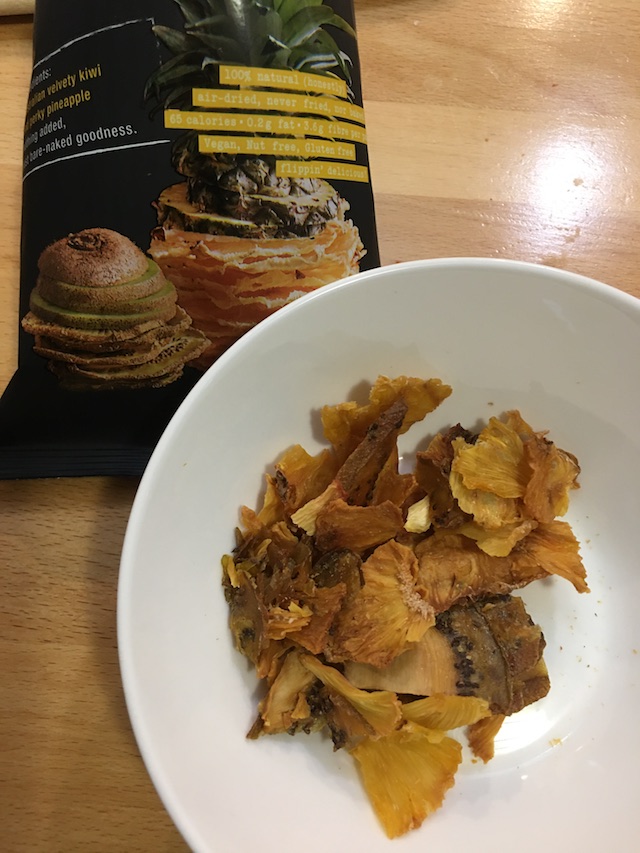 They did have a tiny crunch but became quickly became very chewy and hard to swallow. Taste-wise, they were nice and recognisably, pineapple and kiwifruit.
Tomato and zucchini
The quantity in the pack appeared to be more than in the previous variety though the weight each pack contains is the same, namely 20g. The tomato pieces were tasty, the zucchini less so, but nonetheless pleasant.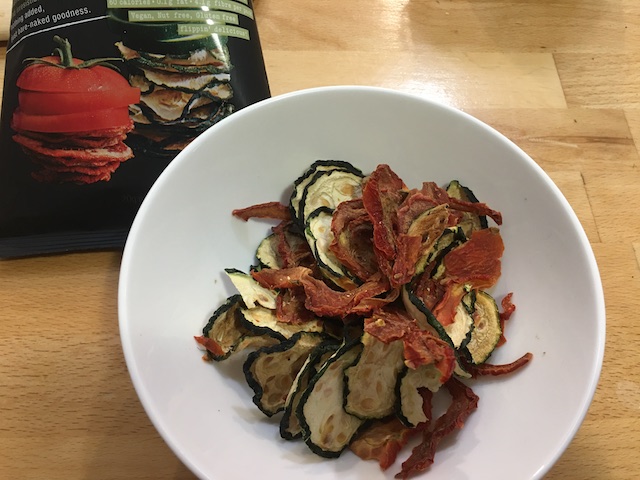 The pieces were larger and more recognisably what they were. Again, a slight crunch and then very chewy and the thinnest pieces stick to your teeth and the roof of your mouth. I'll be interested to know how children manage eating these.
Apple
Like their vegetable counterparts, the apple pack appeared to have more in it and the pieces were, for the most part, a decent size. There wasn't a strong apple scent when you opened the pack.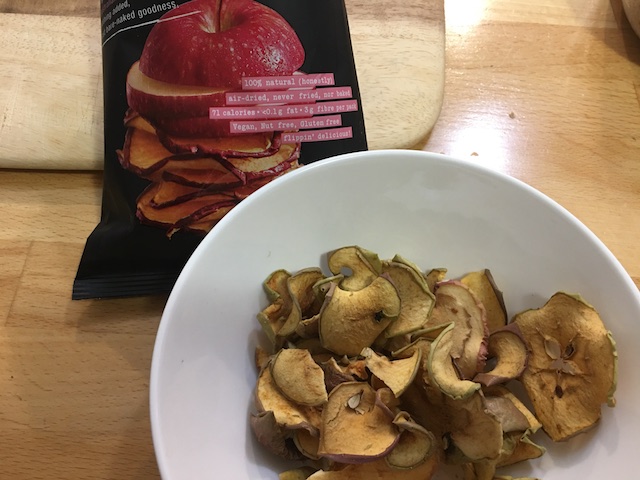 Again, the chips did have a crunch but then quickly became like a fruit leather – sticky and chewy and not overly apple tasting. I can't help thinking that a whole apple with its ability to clean teeth would be preferable to these sticky chips which adhere to teeth. The whole apple would be cheaper too with no pack to dispose of.
Orange
These were more recognisable as the original fruit than any of the other varieties on offer. The aroma when we opened the pack was gorgeous and mouth-watering. Again, the initial crunch followed by the leathery chewiness.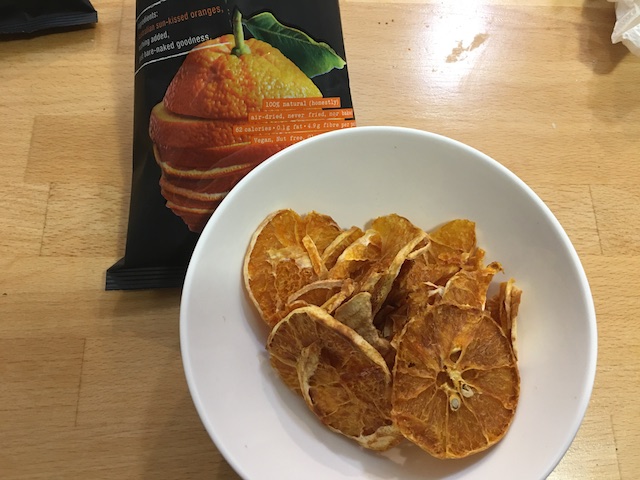 We found the initial flavour good but they had a strong, bitter aftertaste. Presumably this is because the whole fruit is used and so the peel and pith are included. Adults probably wouldn't mind this but kids, with their aversion to bitter tastes, probably will be less impressed.
Pros
Five Health Stars out of Five
Whole fruit with nothing added
Portion control – 20 g snack
The whole health halo – 'air-dried, never fried nor baked', low fat, 3-4g fibre, vegan, nut free, gluten free. (A bit disingenuous as whole fruit and veg have these attributes too).
Low kJ/Cal – 60-70 Cals per pack
Healthier alternative than a packet of potato or corn chips
100 per cent Australian ingredients – supporting local farmers
Cons
Chewy and hard to swallow after the initial crunch
Stick to your teeth and the roof of your mouth
A bitter aftertaste to some of the varieties
Hard to find and if you buy from the website you have to buy a box for $33.
Expensive - $2.75 for 20g (that's 137.50 per kilo when apples, even at their most expensive are around $6.50 per kilo!)
A lot of packaging
The bottom line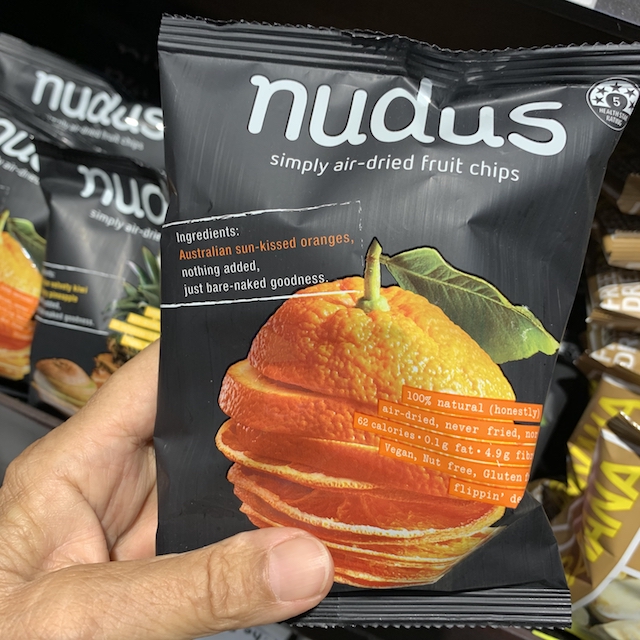 It IS a pack, which can be a help to a lunch box on those crazy-busy days. However, I think this will boil down to individual taste and texture preferences and what you're prepared to pay for a snack.
If you're thinking of them for school lunches then, yes, Nudus are healthy snacks but then so is an apple or an orange which are much cheaper and more filling. What's more, given there are no preservatives used there's probably little or no vitamin C in these snacks in contrast to fresh fruit and veg.
Product reviewed by Munaiba Khan, a retired naturopath with an interest in nutrition.