Superfood Stir-fry (Salmon Chow Mein)
Ready In: 20 minutes
Prep Time: 15 minutes
Cooking Time: 5 minutes
Serves: 4
Enjoy a meal in a wok and get 7 of my top 20 super foods – in one dish! It's quick, delicious AND healthy!
The 7 superfoods in this meal are:
Ingredients
2 x 200 g fillet Atlantic salmon, sliced
2 tablespoon salt-reduced soy sauce
1 tablespoon olive oil
2-3 cloves garlic, crushed
Knob of ginger, crushed
1 red chilli, finely-chopped (optional)
2 cups (300 g) sliced cabbage, about ¼ cabbage
1-2 tablespoons rice wine vinegar
Cooked thin noodles such as bean vermicelli or wheat noodles
TO SERVE
Coriander leaves, about ½ cup to garnish
Slivered almonds, about 1/4 cup
1 lime, cut into quarters
Nutrition per serve
1700 kJ (405 Calories), 26 g protein, 26 g fat (including 5 g saturated fat), 14 g carbohydrate (including 3 g sugars), 4 g fibre and 505 mg sodium.
Read our nutrition rating system.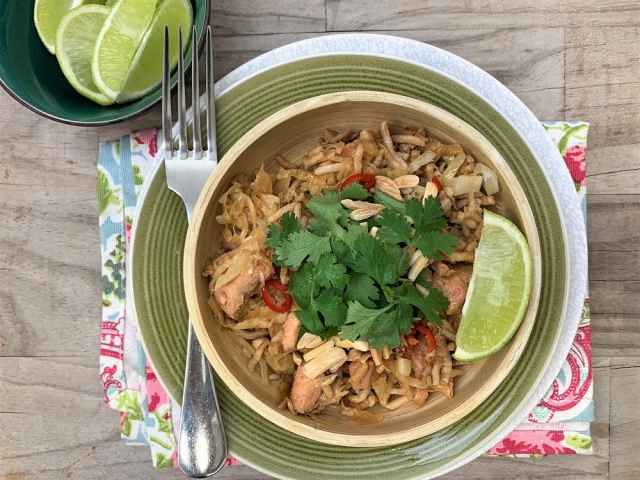 Directions
In a medium mixing bowl, combine the sliced or flaked salmon with soy sauce and leave to marinate while you are getting the other ingredients ready.
Preheat a large wok or non-stick pan over high heat and add oil. Add garlic, ginger, chilli (if using) and stir-fry for 1-2 minutes.
Add in the cabbage. Continue to stir fry for another 3-4 minutes or until the cabbage is soft and has reduced in volume. Place the lid on so it will steam. Add a spoon of water if needed.
Add in the sliced, marinated salmon, then the vinegar or water.
Cook for 1-2 minutes, stirring occasionally. Remove from the heat and mix in the cooked thin noodles.
Serve hot topped with almonds and coriander. Serve with a squeeze of quartered limes over.
Check out these super foods plus others on page 170 Chapter 9 of my latest edition of Nutrition for Life.