Catherine and I decided to make up the 'Healthy Bounty Bar' recipe from the I Quit Sugar website and compare it to the commercial version. This is a fructose-free version of a recipe by Hannah Horton of Health Yeah! You may be surprised at what we found…
'Healthy Bounty Bar' recipe
Here's the recipe for the no-sugar Bounty Bar that is meant to be a 'healthier' alternative to the commercial one. You can view the original post here.
Coconut Filling:
1 cup coconut milk
2 cups desiccated coconut
Pinch of sea salt
Chocolate Coating:
1 cup coconut oil
1/2 cup raw cacao powder
2 tablespoon rice malt syrup
Pinch of sea salt
METHOD:
Start with the coconut filling. Place the coconut milk, rice malt syrup and coconut oil in a medium-sized saucepan. Stir, over a low heat, until the ingredients are combined. Mix through the desiccated coconut.
Line a slice tray, or container, with baking paper. Press the coconut mixture into the pan so that it is about 1.5cm thick. Refrigerate until the coconut filling has set.
Once completely set, cut the coconut filling into bars. Cool in the freezer until very cold (this will make the chocolate coating step easier).
For the chocolate: place all ingredients in a double boiler, stirring until smooth/combined. Allow to cool slightly.
Coat the coconut bars with the first layer of chocolate. Place on a tray lined with baking paper and refrigerate until set. When completely set, coat the bars with a second layer of chocolate. Allow to cool in the fridge for 5-10 minutes before serving.
So, how did we go?
This alternative version or the 'Sugarefree Bounty Bar' has a filling of desiccated coconut/coconut milk/coconut oil, coated with a cacao and coconut oil 'chocolate' which has been sweetened with rice malt syrup. It wasn't the easiest recipe to make, requiring a lot of forethought and patience with several hours of chilling and freezing between steps.
We photographed, tasted tested and nutritionally analysed both this recipe and the commercial Mars Bounty Bar made by Mars Confectionery. Here's how they stacked up side-by-side:
Portion size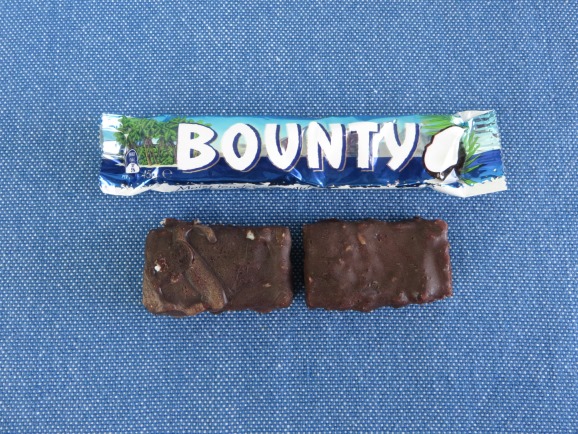 We ended up with 24 portions of the Sugarfree Bounty Bar, each of which weighed around 41g according to the analysis. We felt this was a more realistic size and lined up neatly with ONE bar from a typical twin-pack that you buy at a train station (45g twin pack which holds two, so 22.5g each). The original recipe suggests '36 small bite-sized ones' which we think are too small. This is because the Sugarfree Bounty Bar is simply more dense (heavier) than the commercial bar, which has an aerated coconut centre, so it goes further.
How does the so-called 'Healthy Bounty Bar' compare with the shop bought one?
Taste
We were pleasantly surprised with the look of the 'Healthy Bounty Bar', particularly the dark chocolate colour and the moist centre. However, this initial promise of delight was let down once we bit into it. Most kindly described as 'neutral' in flavour, there was no standout coconut or chocolate flavour and it certainly had nowhere near the sweetness that you would expect from a Bounty Bar.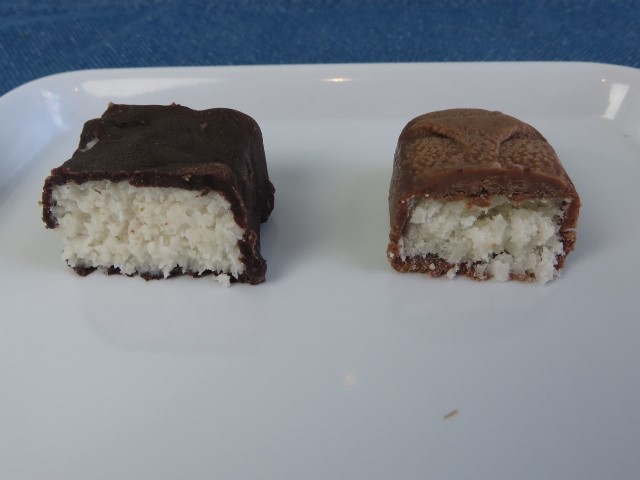 It was rich, due to the large amount of coconut oil used (a whole jar for the recipe!), but strangely, not satisfying. The commercial bar, on the other hand, was very sweet and 'coconutty', but the milk chocolate coating looked disappointing next to the richness of the 'healthy' bar. It nonetheless satisfied that sweet craving.

Nutrition

Ingredients- Commercial (14 ingredients)
Sugar, desiccated coconut, glucose syrup, milk solids, cocoa butter, cocoa mass, invert sugar, vegetable fat, emulsifiers (471, soy lecithin), humectant (glycerol), salt, natural flavour (vanilla extract), peanuts.
Ingredients - 'Healthy' homemade (6 ingredients)
Coconut oil, coconut milk, desiccated coconut, rice malt syrup, cacao powder, sea salt.
How the two bars compare nutrition-wise
The 'healthy' bar has:
Roughly the same number of kilojoules/Calories, protein and sodium per 100g.
Twice the total and saturated fat, thanks to all that coconut oil and desiccated coconut.
12 per cent sugars compared to 46 per cent, so not sugar-free

as you might think,

only sucrose and fructose free.
Per Serve
Per 100g
Component

'Sugar-free'
41g


Commercial
22.5g
'Sugar-free'
Commercial
Energy kJ
890
456
2162
2020
Cal
212
109
517
483
Protein, g
1.2
0.7
2.8
3.1
Fat Total, g
21.2
5.8
51.5
25.6
Saturated, g
19.3
4.5
46.9
19.8
Carbohydrate, g
6.0
13.0
14.6
57.7
Sugars, g
4.7
10.0
11.5
45.8
Dietary Fibre, g
1.9
NA
4.5
NA
Sodium, mg
38
21
94
95
Analysis for the 'Sugar free' bars was done using Foodworks V7 and the figures for the commercial bars were taken from the back of a 45g twin-pack Mars Bounty Bar.
Pros
The 'Sugarfree' version:
Keeps well for at least a month in the fridge – there is nothing that can deteriorate
Has almost one-quarter of the sugars
Has fewer ingredients, is home-made and has no additives.

Cons
Must be kept in the fridge, so not portable like the commercial version
Expensive, thanks to ingredients like coconut oil and cacao
Time consuming to make
A lot more fat, and saturated fat at that! Making it just as laden with kilojoules/Calories as the real Bounty Bar
Not sugar-free - rice malt syrup is still a form of sugar being high in glucose with a GI of 98 which is higher than table sugar (65) and only slightly less than glucose (100), the sugar used as the yardstick to measure other foods against
Not satisfying when you're using it to replace something sweet, which could lead to overeating.
The verdict
In order to make their 'sugar-free' recipes palatable, many anti-sugar advocates utilise a non-traditional, fructose-free sweetener (in this case rice malt syrup) and compensate with large amounts of saturated fat (such as the currently fashionable coconut oil).
While the 'healthy' version contains less sugar and is much less processed, it's still not sugar-free, just sucrose-free which is not the same. It is also much too time consuming and expensive for the everyday person. It seems that we humans love sugar so much that even when we supposedly give it up, we look for alternatives to replace it with. Kind of defeats the purpose, doesn't it?
My tip: If it's something sweet you're after, enjoy ONE small sugar-containing, commercially produced Bounty Bar. But do so mindfully, in small portions, and not very often.
Guest post by Megan Cameron-Lee (BND), APD.
Check out Megan's blog at http://thedieteticdegustation.blogspot.com.au.