Burgers: new kids on the block vs old favourites
Grill'd, Chur Burger and Burger Project are just a few of the new kids on the already-saturated takeaway food block. They specialise in made-to-order gourmet burgers and use "ethics-based" marketing strategies together with locally-sourced, 'no cages, no nasties, no added hormones' produce to entice diners. But are they really any better than Maccas and Hungry Jack's?
What's hype and what do you REALLY need to look for?
Extensive menus can make it difficult to determine which options are the healthy ones in any chain so you need to investigate. As Catherine would tell you "Read the label!". Hang on, though, there are no labels for burgers, right? Wrong! You can find all the ingredient and nutrition info you need on the websites of these chains. You're looking for number of kJs, grams of fat (total and saturated), grams of sugars and carbohydrates and mgs of sodium.
If you have allergies then you need to also look through the ingredients lists.
Let's compare!
These new specialist burger chains claim to serve a healthier and tastier choice for your lunch break but do they? Let's compare apples with apples. Harder than you might think. Usually to do that you would compare the per 100g columns, however, I don't know anyone who is going to weigh 100g and eat that. You eat the whole burger, right? So that's what we're comparing. Below is a table comparing similar offerings from MacDonald's, Grill'd and Hungry Jack's. You can find this information for yourself at the following websites:
| | | | |
| --- | --- | --- | --- |
| Per serve | McDonald's Big Mac | Grill'd (Traditional Bun) | Hungry Jack's Whopper |
| Serving size,g | 215 | 282 | 280 |
| Energy, kJ/Cal | 2180/520 | 2680/640 | 2886/689 |
| Protein, g | 26.9 | 32.6 | 30.3 |
| Fat (total), g | 28.6 | 31.3 | 40.1 |
| Fat (saturated), g | 11.3 | 9.0 | 11.8 |
| Carbohydrate, g | 37.4 | 52.8 | 51.8 |
| Sugars, g | 6.4 | 11.0 | 9.5 |
| Sodium, mg | 993 | 1140 | 669 |
This result surprised me. Aside from having slightly more saturated fat than Grill'd and slightly less protein, the Big Mac had less total fat, less sugars, less carbohydrate than the other two , and less sodium than Grill'd! Not that that means it's a healthy lunch option, it's not.
Grill'd burgers under the microscope
Because it's the newest of the three and because they claim to have healthy, cruelty-free burgers, and give back to the local community, we decide to road test Grill'd. We have developed a quick guide to help you make a healthier choice when that burger craving hits.
Now let's lift off the bun and take a look at what you are getting - or indeed not getting – nutritionally from Grill'd burgers.
Grill'd has three bread options, a good start in tailoring your burger to your tastes and nutritional requirements. We have ranked the buns in order of our three recommended choices.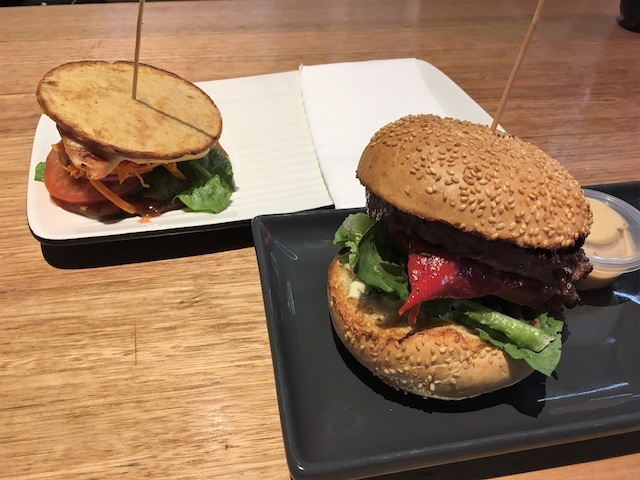 1. The Low Carb SuperBun
A thinner bread than the typical bun, it is lower in carbohydrate because of the use of almond meal instead of white flour, as well as being smaller in size. On arrival, we were sceptical – it doesn't look all that appealing. However, it is much softer than it looks, and delicious. The great thing about this bun is it allows you to enjoy the filling, rather than having mouthfuls of doughy bread taking away from the delicious inners. The fat content is higher than your standard bun because coconut milk is used, and the effect on the total nutritional value of the burger is an elevated fat content (48.3g compared to 31.3g) as well as a higher saturated fat content (14g compared to 9g).
2. The Traditional
This looks and tastes like your traditional burger bun. Although it's made for the more traditional burger lovers, it has a twist. Made with wholemeal flour, this bun has more fibre than white varieties. It has slighter higher overall calories compared to the SuperBun, but that is to be expected because of the larger portion size. Still a great option.
If you want the more traditional burger experience, but without the bloating at the end, take the top bun off, turning the burger into more of an open grill or open sandwich. (Something you can do with any burger.)
3. The Panini
Put simply, back away from this white bread option. While it's not the devil many people claim it to be, white bread lacks the nutrients and benefits the other two options have. The difference in taste between the Traditional and the Panini is small, however, so this option isn't really necessary. One saving grace of the Panini though, is that there are no added sugars. In fact, there are no added sugars in any of their buns. While the other two options are better, the Panini is still a better option to other burger chains who load their buns with refined sugars. However, this reduction in bread sugar seems to be made up for in the burger which unlike the other two chains is not 100% beef and is made from beef and relish, of which the second ingredient is sugar!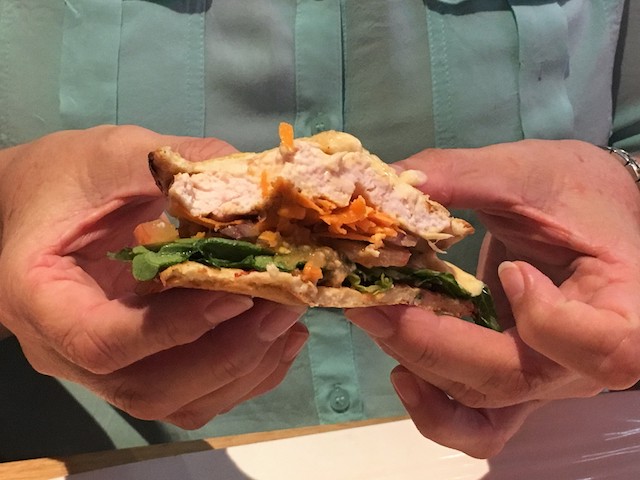 The Fillings
With more and more people following vegetarian, vegan, dairy free and gluten free diets, Grill'd has something for everyone. Here are 5 tips to make the healthier choices on the menu:
Look for fillings that include lots of vegetables, as they have a high nutritional value, are lower in calories, and are full of fibre to keep you fuller for longer.
Go for unprocessed fillings like chicken breast. Note: while the buns do not contain added sugars, Grill'd do use added sugar in their patties.
Ask for no mayo – the burgers taste delicious without the added fat. You may be surprised how much of a difference a few squirts of mayo makes to the total kilojoule count. One squeeze of the mayo container adds 420 kilojoules (100 Calories) to your burger.
Try the vegetarian alternatives – it will get your veggie count up and they're better for you.
Avoid adding extras to your burger – the meat serves are probably on the larger side anyway. No one needs a second patty.
The Sides
This is where you can really rack up your kilojoules! A serve of fries has almost the same amount of kilojoules/Calories as a whole burger, but the burger will fill you up and nourish you a whole lot more than the fries will. Some people think sweet potato fries are 'healthy', but the reality is they are still deep-fried in a vat of oil, adding a lot of kilojoules your body just does not need. This is the same with Grill'd Zucchini Chips - while they sound healthy, the vegetable has been ruined by frying them in oil! Our recommendation is to stay away from the sides – the burger is enough to fill you.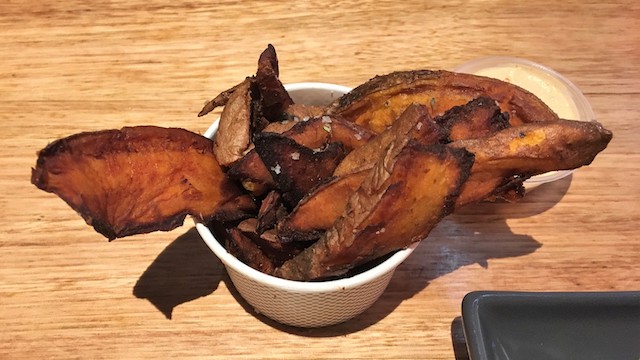 But if you really want a side, here are a few tips so you can enjoy but not overindulge:
Do:
Share the individual serving size with a friend
Share any larger sizes between 3 to 5 people – enough for a taste but not enough to make you feel stuffed
Don't:
Choose any sauces – these are creamy and even higher in fat! The chips are tasty enough
Have the sides every time you visit
Non-burger options
If you don't feel like a burger, Grill'd has you covered. We would have liked to see a larger salad variety, but the ones they have are stellar. We recommend steering clear of the Caesar though, that creamy dressing makes the fat and kilojoule/Calorie count as high as the burger options.
What about the "old kids" on the block.
MacDonald's, while offering many dishes worse than the Big Mac – think Double-Quarter Pounder – also offer some healthier options. They sell a variety of chicken wraps and salads. If you opt for the salads without dressing you'll save around half the kJs! However, the chicken appears to be more than just chicken e.g. the chicken in the Grilled Chicken salad has the following ingredients:
Chicken, Water, Rice Starch, Salt, Mineral Salts (451, 450), Soy Protein, Fruit Powder [Contains. Lemon Juice Concentrate, Flavours], Dehydrated Garlic, Natural Flavour, Herbs, Sugar, Vinegar Powder, Vegetable Powder, Anticaking Agent (341), Spice Extract (Pepper), Vegetable Oil.
Hungry Jack's Nutrition info sheet lists veggie burger options but we couldn't find them on the website to check the ingredients. They also have grilled chicken burgers but we lost count of the ingredients - not a good sign.
The chicken offered at Grill'd is just chicken breast! Just what you hope you'll get.
The bottom line
Grill'd is more of a dine-in experience than the other two. Yes, I know you CAN dine in at the others but it's not really pleasant to my mind. Grill'd also ensures all produce is ethically sourced and supports local farmers. While they do promote whole foods packed with nutrition that people will enjoy eating and appear to have more healthy options than the "old kids", if you go for the standard burger then it's really no better than any other fast food chain burger. The key is to make the healthy choices that are offered.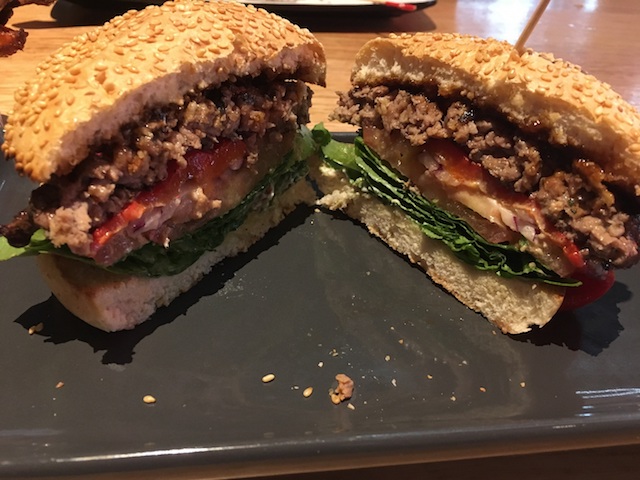 As always, moderation is key. This is not an everyday option, or even an every week option - unless you always go for the salads. Leave Grill'd for those working meetings, a treat out for the family, or when catching up with some friends. While many of the burgers are largely nutritionally sound, the portion sizes are on the large size. You've been warned.
Thanks to dietitian Caitlin Delaney for the first draft of this post.
References / External articles