Individual serves
This version is not that different except that you make up an individual serve in a small glass jar that you can grab from the fridge in the morning as you race out the door. It takes only a super-fast five minutes to prepare and you can make up any number depending on how many you need in the morning.
I love that it's healthy with its blend of oats, chia, milk and/or yoghurt with fruit, fresh, frozen or dried.
And if you get a last-minute offer of breakfast out, then just leave the jar in the fridge – I reckon it keeps well refrigerated for up to 5 days.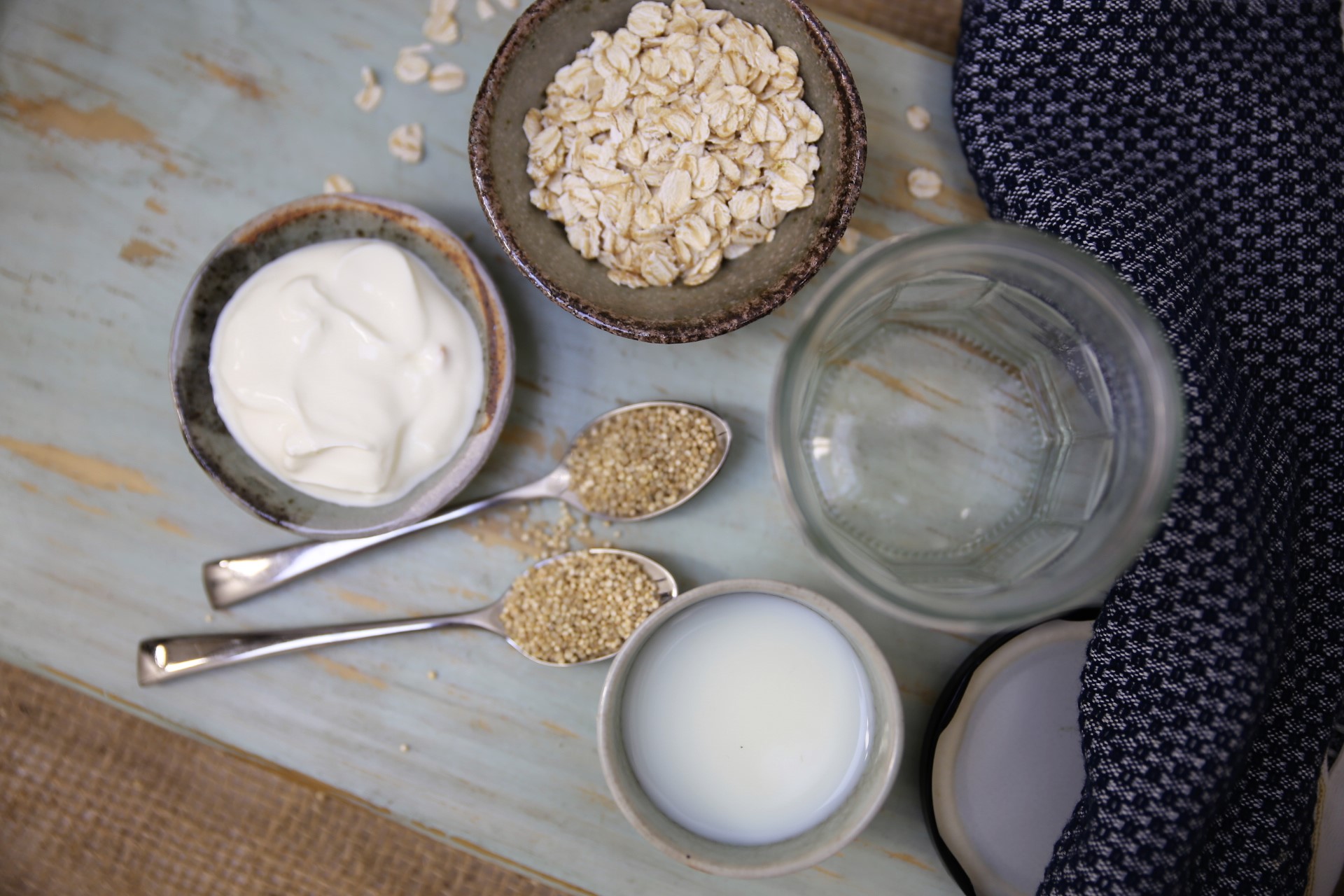 Oats – lots to love
The basis of this easy breakfast idea is simply oats. Any type of rolled oats – thicker or traditional - but not the instant quick-cook varieties.
Oats add lots of nutrition bonuses and are one of my top 20 super foods.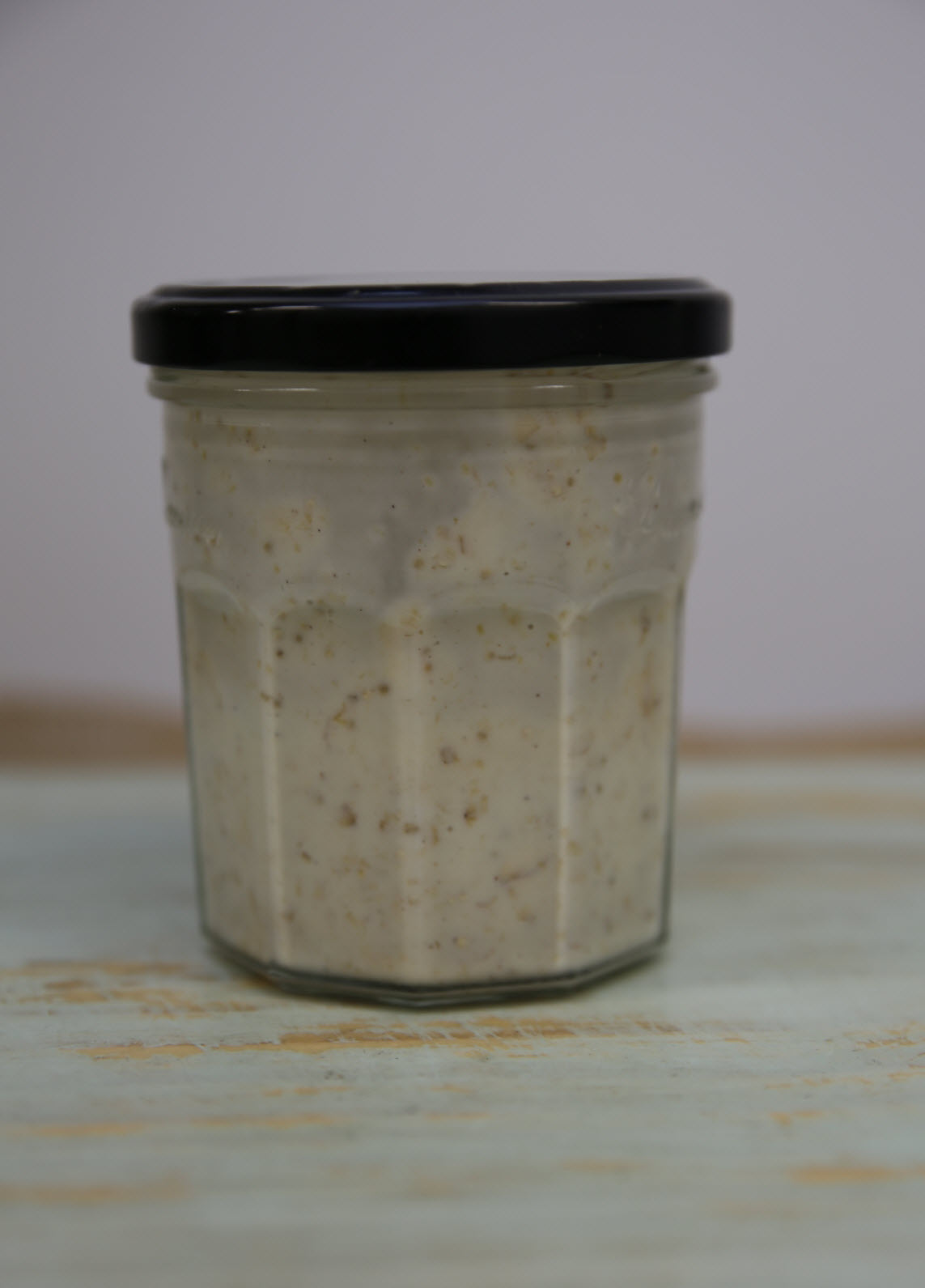 They are high in fibre, especially the soluble fibre known as beta-glucans that sweeps cholesterol out of the body. They offer you protein, B vitamins like thiamin and niacin (to help in the release of energy from food), minerals such as phosphorus, potassium and magnesium (which helps steady the rhythm of the heart).
Compared to wheat and rice, oats tend to be lower in GI which is good
Compared to wheat and rice, oats tend to be lower in GI, which is good, and offer small amounts of good fat, another bonus.
Read more about the nutritional value of oats on my website.
Master recipe Overnight Oats
Makes 1 serve
¼ cup rolled oats (I use traditional oats)
1 teaspoon beige chia seeds
¼ cup milk or almond mylk or other non-dairy substitute
¼ cup thick plain yoghurt (optional) (If you like things a little sweeter, then use a flavoured yoghurt instead)
In a wide glass jar holding about 200g (8oz), place oats, chia, milk and yoghurt. Ideally choose jars with a wide opening if you can. Then mix in any ONE of these fruit-nut combos:
4-5 slices of banana with 1 tablespoon maple syrup and a sprinkle of cinnamon
3-4 chopped prunes with 2 teaspoons chopped walnuts
¼ cup stewed apple or 1 small grated fresh apple with a dash of vanilla essence and 2 teaspoons slivered almonds
2-3 fresh strawberries with 1 teaspoon linseeds or toasted sunflower seeds (or use frozen)
Fresh blueberries with 2 teaspoons almond butter and psyllium husks (or use frozen)
1 small diced pear or ¼ cup other fresh fruit or apple puree
Close lid and shake for 10 seconds to combine. Store in the fridge overnight or for at least 4 hours before eating. The oat mixture gets softer and more blended the longer you store it.
Note: If you don't have any yoghurt, simply double the milk - you'll be adding ½ cup milk.
Overnight Oats recipes
Overnight Oats wtih carrot and prunes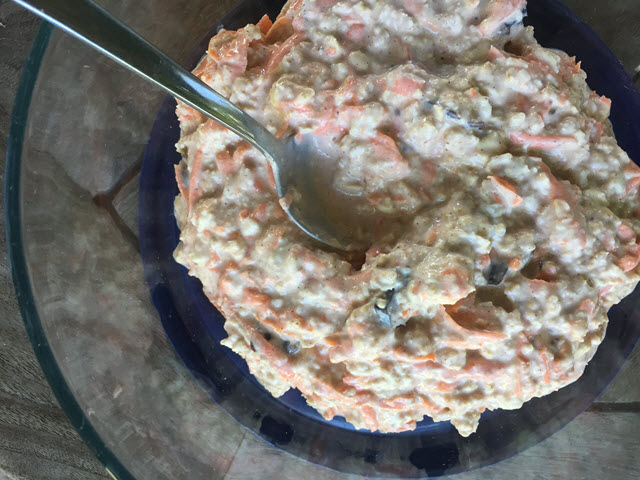 Makes 4 serves

1 cup rolled oats
1 tablespoon chia seeds
1/2 cup plain yoghurt
1/2 cup milk or almond mylk
1 small or ½ medium carrot, peeled and coarsely grated
1 tablespoon honey or maple syrup
6 prunes, seed removed and chopped
1/2 teaspoon vanilla essence
1/4 teaspoon ground cinnamon
Place all ingredients together in a medium-sized mixing bowl. Stir well to combine.
Spoon into 4 jars with tight screw top lids or else cover bowl with plastic film.
Refrigerate for at least 4 hours but preferably overnight. In the morning, simply grab and eat.
Overnight Oats with prunes and walnuts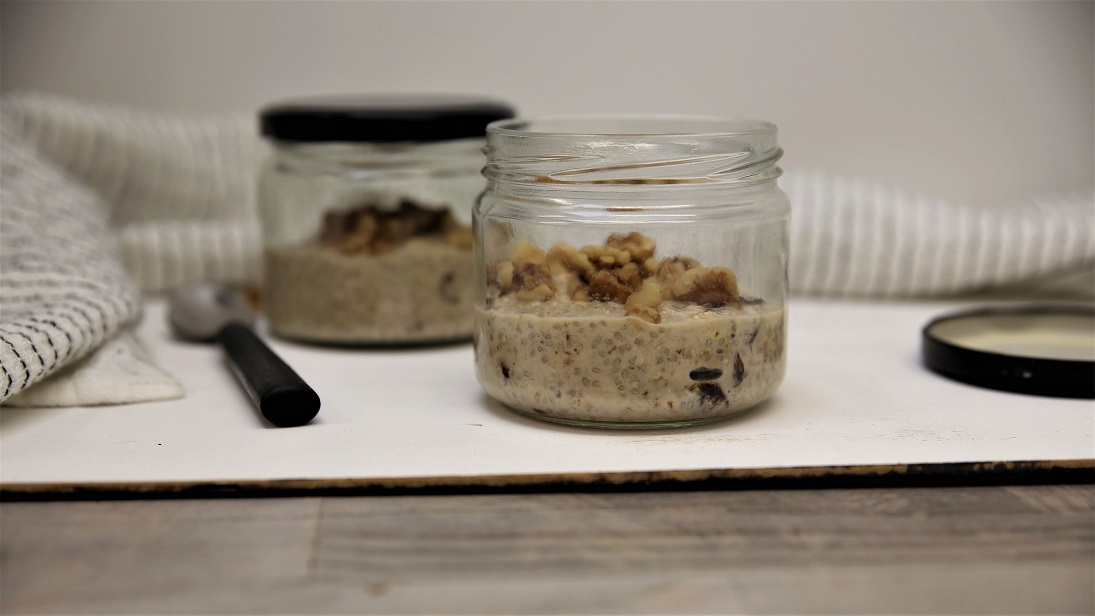 Makes 2 serves
1/2 cup rolled oats
1 teaspoon chia seeds
1/2 cup milk or almond mylk
1/2 cup stewed prunes, about 6 prunes drained *
2 tablespoons walnuts, chopped
In a mixing bowl, mix together oats, chia and milk. Dice and remove seeds from the prunes, if necessary. Add to bowl. Mix to combine.
Spoon into 2 glass jars. Sprinkle walnuts over the top. Close top and store in the refrigerator overnight or for at least 4 hours.
In the morning, grab one and a spoon and enjoy on the way to work. Eat the second one on the next day.
*These are prunes that have been canned in a syrup so they are softer and sweeter than dried ones. You can use dried prunes in place of these - you may want to sweeten with 1 tablespoon of honey or agave syrup. Add this to the bowl with the chopped prunes.
The bottom line
The number of variations of overnight oats are limited only by your imagination and food tastes. Give them a try, they're better for you than packaged on-the-go type breakfasts and are a snap to prepare.
The number of variations of overnight oats are limited only by your imagination
Save
Save
Save
Save
Save
Save
Save
Save
Save
Save
Save
Save
Save
Save
Save
Save
Save
Save