Ancient Grains Photo-a-Day Challenge
I'm running my first Photo-a-day challenge on Instagram during the month of June. I'd love you to join me and upload your photos of quinoa, spelt, barley, rice or bulgur or whatever grains, breads or cereals you're buying, cooking or consuming. Read on for more details of how to do it.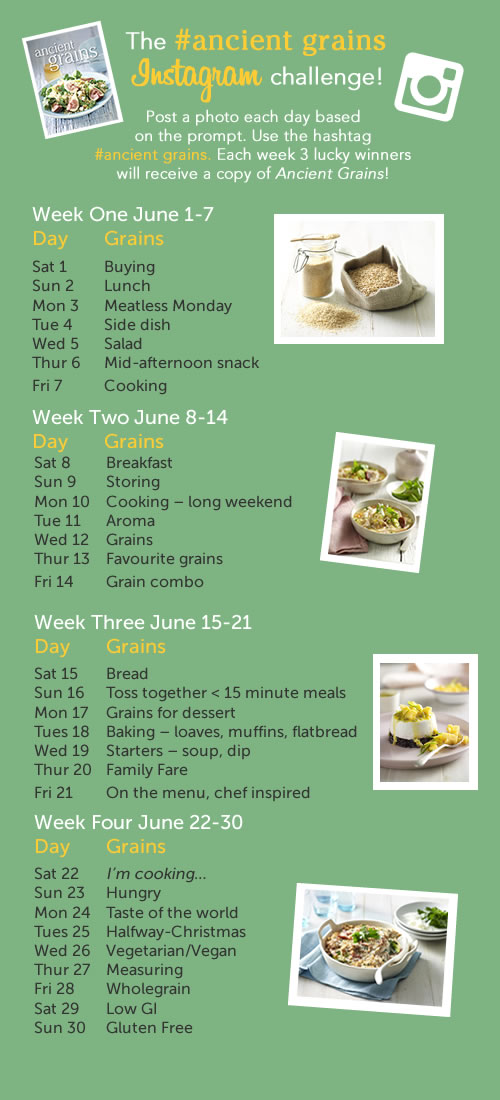 Thanks for the original inspiration and advice for this photo challenge from the popular Fat Mum Slim photo-a-day challenge run by Chantelle Ellem.
Yes you can participate ...
Each day, check the day's theme (see below) and take a photo according to the theme. For instance, on Day 1 the theme is 'Buying', so share a snap of some ancient grain, pasta, bread or cereal you've bought. It might be something you purchased today, like a smoothie with chia, or a packet of quinoa or other grains that you picked up some time in the past. It's an easy way for you to look around when out shopping or at the markets.
After you've snapped your photo, I'd love you to share it on Instagram. See below for more details.
For how to sign up on Instagram, click here (it's free).
Check out other people's photos. Get inspired by looking at recipes or seeing what others are cooking. On Instagram or Twitter, just search for the #ancientgrains hashtag to see them all.
Check out the places for this photo challenge
Instagram: All you do is upload your photo, add a caption if you want and the hashtag #ancientgrains. As an example, take a look at my Instagram stream at http://instagram.com/catherine_saxelby.
Twitter: If you're on Twitter, this is a place to share your photo. Just upload the photo with the hashtag #ancientgrains.
Facebook: You can upload to my page which is Foodwatch Australia. You can find it here.
Blog: If you have a blog, you could share each day or do a wrap up of all the photos at the end of the month. Put the link up via Twitter.
However, you'll only qualify to win if you post on Instagram or Twitter with the hashtag #ancientgrains.
Prizes for your creativity
Each week during June, I'll be picking three photos on Instagram that I like, and putting them up on my Facebook, Instagram and Pinterest.
Each lucky person will receive a copy of the new book Ancient Grains courtesy of Arbon Publishing. Details and a preview of the book are here. You'll need to send me your postal address via a DM or email.
To have your photos in the running, just share them on Instagram using the hashtag. It's neither serious nor nutrition-based, it's a new way to put the spotlight on these heritage grains and share ways to prepare them. There's no such thing as a bad shot or a failed recipe – we're all learning from each other and want to find easy and delicious ways to prepare these grains.
Don't worry if you can't commit to posting everyday. You will still have the opportunity to win, and you only have to post once to be in the running!
So just share your snaps, and I'll announce the recipients each Monday.
Why the themes?
These 30 themes or ideas below are my list of suggestions to start the process off! I like seeing how people interpret and use the themes in their own way. Often they're really different to what I had thought!
Make each theme into your own lifestyle – often it's the first thing that pops into your head! Read more of the suggested details about each theme are below.
Daily themes for each day during the month of June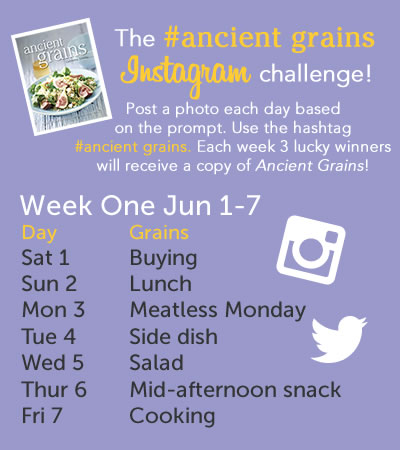 WEEK 1 1-7 JUNE

1 Buying. Share your photo of some ancient grains eg barley, quinoa, wild rice, etc you spotted at the shops or bought today, yesterday or a year ago (and that are still sitting in the cupboard!).
2 Lunch. What ancient grains are you eating for lunch ? Are you eating out at a café or eating leftovers from a tupperware container?
3 Meatless Monday. Swap meat for grains, nuts and legumes. Perfect opportunity to make some meatless grain patties or slow-cooked vegies with barley.
4 Side dish. So many possibilities. Combine your grains with vegies, salad leaves, nuts, seeds or cheese to create that perfect accompaniment to meat, fish and chicken.
5 Salad. Take advantage of barley, farro, couscous or quinoa to add some volume to salads to make them a meal.
6 Mid-afternoon snack. Homemade muesli slice? Store bought bar? Or even a smoothie? Are you a sweet or savoury craver when it hits 3:30?
7 Cooking. On the stove? In the slow cooker? A quick zap in the microwave? Show us your favourite ways to cook your grains.
Here are the three winners for Week 1 10 June

Congrats to @cleanfood_daily, @lisamareedonalson and @julia_durie: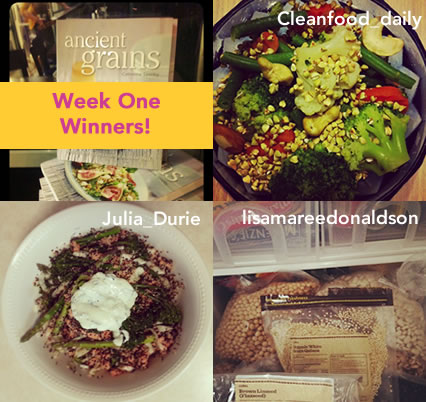 ---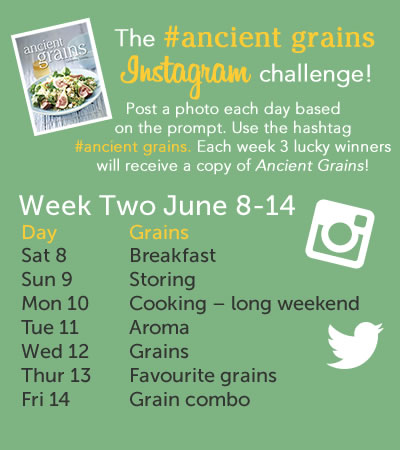 WEEK 2 8-14 JUNE
8 Breakfast. Pancakes? Porridge? Toast? All are possible with ancient grains!
9 Storing. You never use a whole bag of grains at once! How do you store yours? In glass jars, plastic container or perhaps you use the old peg trick?
10 Cooking. Long weekend – Show us what you created over the weekend. Perhaps you made some entrees and side dishes for a bbq or a hearty winter soup.
11 Aroma. Get cooking with grains. Or toss in some herbs or spices. A great way to give meals some depth of flavour.
12 Dinner. What are some of your go-to dinners? Curries, burgers, soups? We want to know!
13 Favourite grains. What's your favourite? Its flavour? Versatility? Texture? Price?
14 Grain combos. Sometimes one grain isn't enough. Grain combinations add great textures to meals.
Here are the three winners for Week 2
Congrats to @glenda_bishop, @paleoprincess314 and @KarenKingham: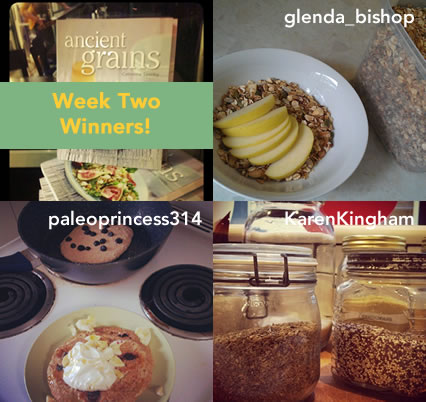 Honorable mentions

We loved these other six shots. Sorry not everyone could win a cookbook! Thanks to the following contributors: @matt_hew_boyd, @bobbiecrothers, @ghasty, @everydaycurator, @foodatoakhill and @miia____. You guys rock!


---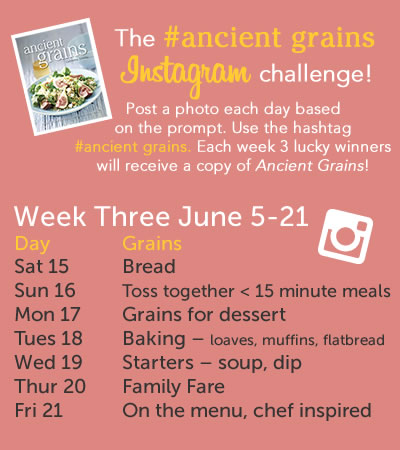 WEEK 3 15-21 JUNE
15 Bread. Do you make homemade bread? Do you buy yours from a bakery or supermarket? Alternatively, share a photo of your favourite sandwich or toast.
16 Toss together. Under-15 minute meals. Sometimes we don't have time to be cooking all night long. Share your ancient grain meals made in under 15 minutes.
17 Grains for dessert. Do you have a recipe for an apple oat crumble? Rice pudding? Sweet couscous?
18 Baking. Loaves, muffins, flatbread. Ancient grains will become your best friend when baking. Experiment with teff flour or spelt. Oat muffins, quinoa slice.
19 Starters. Think soups, dips, finger foods, aranchini balls.
20 Family Fare. Share your favourite family-friendly meals. It doesn't have to be a dinner meal. Perhaps breakfast time is the big family meal in your household.
21 On the menu, chef inspired. We've all seen and eaten great grain meals at restaurants. It's time to recreate those gourmet dishes at home or share what've tasted when out.
Here are the three winners for Week 3
Congrats to @foodatoakhill, @liveforlife and @everydaycurator: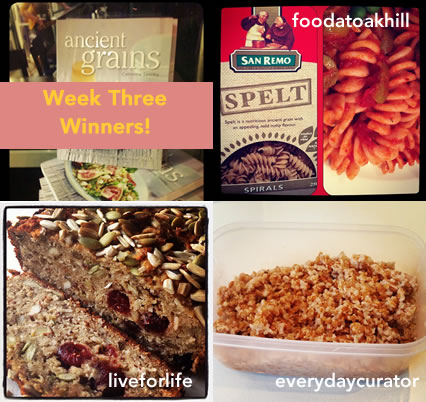 ---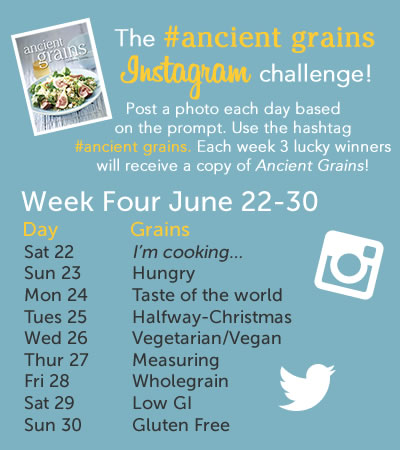 WEEK 4 22-30 JUNE

22 I'm cooking. Share pictures of yourself cooking or your latest grain recipe. Whether it be preparation, boiling, steaming or serving.
23 Hungry. What are you craving right now? Share a picture of what you'd like to be eating, or what you have eaten to rid hunger.
24 Taste of the world (a cuisine) eg Indian, Asian, Turkish, Greek. Do you have an old family favourite recipe that you can substitute ancient grains into?
25 Halfway-Christmas. Happy halfway Christmas! Start preparing for the big day by trying some Christmas inspired recipes – stuffing works so well with ancient grains.
26 Vegetarian/Vegan. Time to ditch the meat again. Choose some vegetables that are in season and start experimenting (roast/bake/boil/steam). You can't go wrong with a vegetable and grain combo.
27 Measuring. Getting the right grain:water/stock ratio can take a bit of practice. How do measure your grains? Measuring cups? Eye ball it? And to what ratios?
28 Fresh leaves/herbs. Herbs work so well with ancient grains. They not only give depth to cooked meals (think sage/thyme/basil) but also give raw meals a real fresh flavoursome hit (think coriander/cilantro and mint).
29 Low GI. Keeps you fuller for longer! What low GI foods do you eat to keep yourself going throughout the day?
30 Gluten Free. Share your gluten free recipes. Even if you are not gluten free yourself, share your recipes for those that are!
Here are the three winners for Week 4
Big congrats to @Ange inspired, @Kez_e and @FarmHouseHome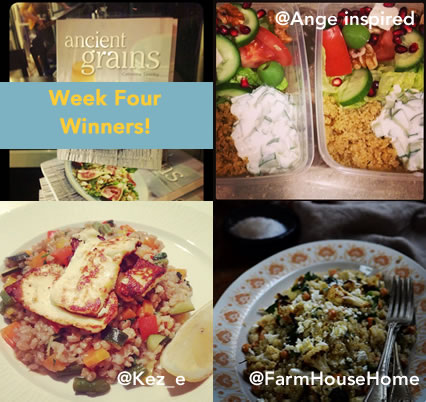 ---
A big thank you
A massive thank you to everyone who got involved in my first photo challenge on Instagram in June! Whether you posted one shot or a dozen, you jumped on board and helped spread the word about ancient grains.
I was amazed at just how many people embraced the concept and shared their shopping, cooking and meal ideas.
Hundreds of photos were shared under the #ancient grains hashtag and heaps of food lovers and healthy eaters got to connect across countries.
Cheers
Catherine